This topic is subject to change
Tool
Deployment Module v1.1.5

Background
Even if this forum became very quiet, i'am back to present you the future of the deployment module. I must say
i was quit demotivated
after the
fire that took place at the OVH data-center
building which caused the loss of a lot of important data, and to start some big parts over again from scratch... However, with the time and the help of a good friend, we have slowly brought the project back to live and have bumped its version from
v1.0.6
to
v1.1.0
. Having as end goal to become a multi purpose open source game deployment tool. We will advertise the project on other boards when their games will be officially supported. With the deployment tool, you are one-click away to start your business and win money
Requirements
A VPS or Dedicated server with root access; Shared hosting may work but is unsupported by default.

PHP 7.4

Plesk cPanel, VestaCP as hosting panel (You can as well use manual deployments if you don't use any of the listed panels)

Having a minimum knowledge of SSH commands

Games
We are willing to become a multipurpose deployment module for open source games and are not only focusing on 2moons game types. However, at the time being and with the load of games running under 2moons i have in my archives. We firstly included in our road-map to put these games back to life and compatible with
the module starting from v1.1.0
. The games are released as-is where i have left them before i stopped to run 2moons games and some features of them are still undeveloped. We are following our personal road-map for the development but we won't hesitate to include opened git issues in the road-map.

Admin Panel
until
v1.0.6,
the admin panel was included in the repository of each game, and each game had his own finished or halve finished admin panel which made it hard to handle correctly as every panel was different. Starting from
v1.1.0,
the admin panel is directly integrated in the deployment module tool and connect to each game through a newly developed
game management API
. We are using the work of
@Yaro2709
as admin panel template, which we have adapted to comply with our
game management API.
This mean that you can now manage all of your deployed games from one place with the same and unique admin panel (less development work). The game management API is protected with an Authorization header token, which is generated at the moment you deploy a new game. Be sure to not share this Authorization token with other members as they could have access to your game management API and break your game. Be sure to generate a new authorization token if you absolutely have to share it. The admin panel is builded up dynamically depending on the game you want to manage. Features, configs may be present on some games and not on others.
Subscriptions
We have internally decided to not create to much subscriptions packages and have limited them to 2 being the
starter package
and the
pro package.
Here is the moment you would say, ah give us the
starter package
which almost include no features and let the
pro package
cost a ton. Hence, we will stop you here. Both package does include exactly the same features, the only difference is that the
pro package include the possibility to deploy unlimited games and support for the basic tool features.
We do not provide server configuration support and installation of the tool support to
starter packages.
We are pretty confident in the ease of use of our tool and our internal knowledge base and FAQ will answer most of your pending questions. As
starter package
, you can still purchase the "
Install and Configure
" package at a
one time fee of €9.99/installation
or ask help to other 2moons forum members
You consent by subscribing to the pro package that no refunds are possible.
Every subscription is appreciated and support us in the continuous development of the tool
Bug and issues
As explained earlier in this topic, the games are released as is at the moment i have stopped myself to run 2moons games. Some part of some games are still undeveloped, or some unwanted errors may appear in your deployed games. We keep activitly working on the games but do not hesitate to open a git issue to inform us about it and we will include the development of the feature/bug-fix in one of our road-maps if it isn't already.
Communication
A public discord channel has been created. At the time of writing, it is still a very basic discord server. However, different discords bots are being developed to make it a must have tool to stay informed about all ongoing development and announcement. You can join us at our discord:
discord.gg/EDaMpXArEZ
Links
Store -
gamerpath.net
Demo -
ogamex-reborn.com
(Email:
demo@demo.com
- Password:
demo1234
)
Discord -
discord.gg/EDaMpXArEZ
Changelog:
Screenshots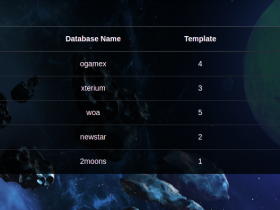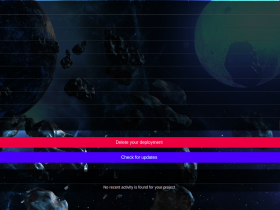 The post was edited 15 times, last by Jbaukens ().